---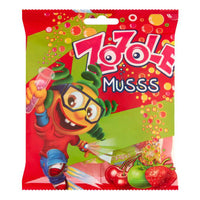 These apple, strawberry and cherry hard candies have a delightfully fizzy filling!
75g / 2.65 oz / 5 servings
Ingredients: sugar, glucose syrup, pH control agents: citric acid, sodium hydrogen carbonate, sodium citrates, concentrated fruit juices (0.1% apple, strawberry, cherry), artificial flavors, extract from stinging nettle and spinach, black carrot juice concentrate, color: paprika extract. May contain milk, soy.