---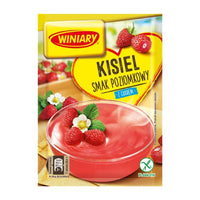 Strawberry flavored soft jelly so you can prepare a tasty dessert for the whole family on a daily basis. It tastes great in combination with fresh and frozen fruit and also works as an addition to home cakes. Color from natural sources.

To prepare: fill glass with 0.5 liters cold water. Pour out half of glass into saucepan. Pour the contents of the package into cold water and mix well. Boil the rest of the water. Reduce heat and pour in jelly mixture. Cook, stirring constantly. Pour into bowls and decorate with fruit.

77g

Ingredients: sugar, potato starch, acidity regulator (citric acid), plant concentrates 0.2% (carrot and hibiscus, safflower), vitamin C, aroma, salt, maltodextrin. Gluten-free product. May contain milk.