---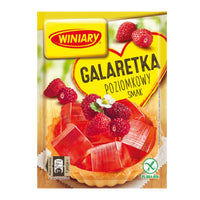 Wild strawberry gelatin, 4 portions.
71g
Cooking Instructions: Boil 500ml water. Turn off heat. Add contents of packet and stir until dissolved. Do not boil. Pour into cups and cool in refrigerator. Decorate with fresh fruit if desired. 
Ingredients: sugar, gelatine, citric acid, plant concentrates (hibiscus, carrot, safflower), aroma, maltodextrin . Gluten free.