---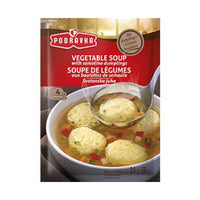 To prepare: empty the contents of the package into 1L (cups) of boiling water and stir. Simmer for 10 minutes in a half covered saucepan. Do not stir afterwards. 
2oz / 58g / 4 servings
Ingredients: semolina dumplings (wheat semolina, modified palm fat, powdered eggs, powdered egg white, dried celery, dried vegetables (celery, carrot, red pepper, leek, onion), corn starch, yeast extracts, maltodextrin, flavor, caramel color, spices, parsley leaves.