---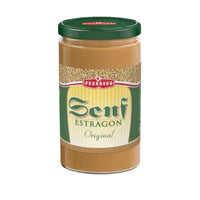 Shiny and smooth texture and a delicate taste make Mustard Estragon one of the most popular mustards.
It can be used for many purposes: as a side dish with roast meat, with hot-dogs and sandwiches, as a salad dressing. It stimulates digestion. Its calorific value is low which makes it a wise solution for using with dishes with high fat content. 
350g / 12 oz
Ingredients: water, mustard (19%), vinegar, sugar, salt, spices, color: caramel, thickener: xanthan gum, preservative:potassium sorbate, tarragon flavor (0.003%). Contains mustard seed. May contain milk.