---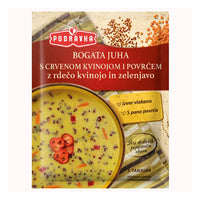 To prepare: empty the contents of the package into 800ml (3.4 cups) of lukewarm water and stir with a whisk until soup boils. Simmer for 15 minutes stirring occasionally. 
2.5oz / 70g / 3 servings
Ingredients: dried vegetables (carrot, onion, celery, leek, red pepper), palm oil, corn starch, potato starch, salt, red quinoa, corn flour, yeast extracts, red lentil, sugar, cream powder, lactose, spices, milk proteins, artificial flavor, natural flavor, turmeric. Contains milk. May contain traces of wheat and eggs.