---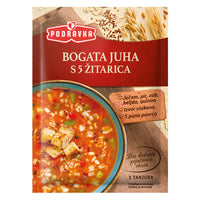 To prepare: empty the contents of the package into 800ml (3.4 cups) of lukewarm water and stir with a whisk until the soup boils. Simmer for 15 minutes stirring occasionally. 
2.6oz / 75g / 3 servings
Ingredients: grains (barley, spelt, oat flakes, buckwheat, quinoa) dried vegetables (potato, onion, tomato, carrot, celer, red pepper, leek, green beans), palm oil, corn starch, salt, sugar, potato starch, yeast extracts, spices, paprika oleoresin coloring.