---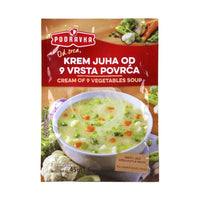 For cooking you need love and premium ingredients. Savor this tasty cream soup made with love. To prepare: empty contents of the packaging into 3 cups lukewarm water. Stir gently with a whisk until the soup boils, simmer for 15 minutes, stirring occasionally. 
45g / 1.6oz / 3 servings
Ingredients: wheat flour, dried vegetables (carrot, peas, onion, garlic, celery, leek, broccoli, cauliflower, savoy cabbage), salt, corn starch, palm oil, monosodium glutamate, yeast extract, sugar, lactose, spices, milk proteins, parsley leaves, disodium inosinate. May contain traces of eggs. Contains wheat and milk.