---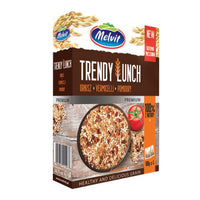 Melvit Trendy Lunch makes a quick and easy meal, add your favorite seasonings and enjoy! To prepare, boil 1 liter of water. Add salt to taste and one packet of Trendy Lunch. Cover with lid and simmer on low heat for 15 minutes. After cooking, leave covered for 3-4 minutes. Drain before serving. 
4 - 100g packets / 400g 
Ingredients: wheat grains of spelt, vericlee of durum wheat, sun dried tomatoes. May contain sesame seeds.