---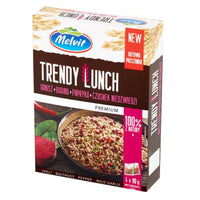 Fall in love with the new flavor of dinner! Try the delicious combination of spelt, beetroot, pepper and wild garlic. It's an original and tasty meal, ready in 17 minutes. 
To prepare: Boil 1 liter of water, add contents of one packet. Add some salt. Cover with lid and boil on low heat for 17 minutes. Drain before serving. 
320g / 4 packets
Ingredients: wheat grains of spelt 87%, dried beetroot 7%, dried pepper 5%, wild garlic 1%. Contains gluten. May contain sesame seeds.