---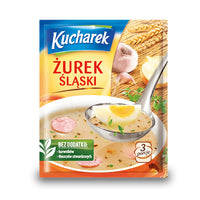 Prepare classic zurek sour soup instantly! Silesian style sour rye soup powder. 
46g / 3 servings
Cooking Instructions: Dissolve packet into 750ml of cold water in saucepan. Bring to boil, reduce heat to low and cook, stirring continuously for 5 minutes. 
Ingredients: rye flour (55.6%), salt, dried vegetables: onion, garlic, skimmed milk powder (including lactose), sugar, monosodium glutamate, disodium 5-ribonucleotides, citric acid, marjoram, rapeseed oil, flavorings, smoke flavorings. May contain eggs, soybeans, mustard seeds, celery and peanuts.