---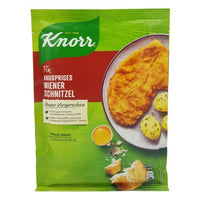 You will need 3 cutlets of veal, pork or turkey. To prepare: put the contents of the bag on a plate. Moisten the cutlets well with cold water. Place the schnitzel in the breading and press well, turn over and press well again. Fry in hot oil on both sides until golden. We recommend serving with parsley potatoes and cucumber salad. 
90g / Makes 3 cutlets
Ingredients: breadcrumbs (wheat flour, table salt, paprika, yeast), rice flour, egg white powder, iodized table salt, flavorings (with egg), egg yolk powder, corn germ, spice, yeast extract. May contain traces of milk, soy, celery and mustard.