---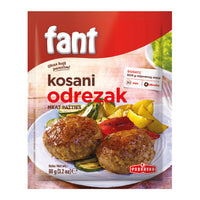 For 4 servings, you will need 1 lb (500g) ground meat. To prepare: pour 1/2 cup (150ml) of lukewarm water over the contents of the packet, mix well and let stand for several minutes. Add 1lb (500g) ground meat. Mix well. Shape the mixture as desired. Fry in warm oil or lard. The mixture may be used for meatloaves stuffed with hard cooked eggs. 
3.2oz / 90g / 4 servings
Ingredients: bread crumbs (wheat flour, yeast, salt), wheat flour, salt, dried onion, monosodium glutamate, corn starch, powdered eggs, dried garlic, sweet red pepper, black pepper, palm oil, parsley leaves. Contains wheat, eggs. May contain traces of milk.