---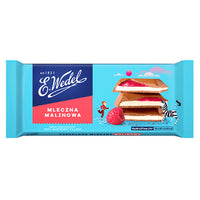 Milk chocolate with delicious raspberry filling. 
3.53oz / 100g
Contains 1.3% raspberry juice. Ingredients: milk chocolate 50% (sugar, cocoa butter, dried whole milk, cocoa mass, dried whey (from milk), milk fat, emulsifiers (soy lecithins and E476, flavoring), sugar, vegetable fat (palm), concentrated apple pulp, raspberry preparation (glucose-fructose syrup, sugar, modified starch, beetroot juice concentrate, raspberry juice concentrate, citric acid, stabilizer (pectins, flavoring), dried yogurt, dried whey (from milk), dried whole milk, humectant (sorbitols), alcohol (0.3%), flavorings, emulsifier (soy lecithins), citric acid. Milk chocolate: cocoa solids 29% mimimum, milk solids 14% minimum. 
May contain peanuts, nuts, cereals (gluten), egg.