---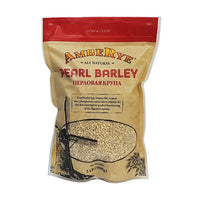 Pearl Barley - one of the world's oldest and most treasured grains, is used by cooks and chefs around the globe. Pearl Barley has the bran partially removed before it is polished, resulting in a smooth surface and quicker cooking time. Pearl barley is very versatile and lends itself to a variety of dishes. Add pearl barley to soups, stir fries and stews in place of rice for a tasty change. It can also be cooked upas a hot cereal, stirred into salads, or used in stuffing. The mild nutty flavor and tender chewy textures is also wonderful in pilaf or risotto.
Cooking instructions: Combine 1 cup of pearl barley with 3 cups of water, add a generous pinch of salt if desired. Bring to a boil, lower the heat, cover and simmer for 25 minutes or until desired consistency. 
2lb / 900g
Ingredients: pearl barley. Contains gluten. May contain traces of wheat, rye, oats.